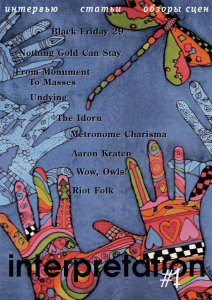 http://interpretation.net.ru/
http://issuu.com/interpretation/docs/interpretation_1
я не знаю, не читал. первый номер увидел оформление и расхотелось сразу.
вроде зин в основном про эмо/скримо)). хз. вдруг кому.
В первом номере:
Интервью: Black Friday 29 (хардкор, Германия), Fear My Through (метал, Германия), The Idoru (мелодичный и техничный хардкор/метал, Венгрия), Indecision Records (хардкор лейбл, США), Indexterity (метал, Бразилия), Nothing Gold Can Stay (хардкор, Австрия), Undying (метал, США), Metronome Charisma (скримо, Франция), Seldon Hunt (художник, Австралия), From Monument To Masses (пост-рок, США), Wow, Owls! (имокор, США), ВИТА (вегетарианская организация, Россия).
Обзоры сцен: Барселона (Испания), Будё (Норвегия), Швеция.
Статьи: Aaron Kraten (художник, США), Articles Of Faith (и история сцены в Чикаго), Riot Folk, Clitocore zine, Вегетарианские организации - EVA и The European Vegetarian Union, Гуантанамо и что-то ещё...